Playful Learning, Manchester, 12-14 July 2017
Playful Learning is pitched at the intersection of learning and play for adults. Playful in approach and outlook, yet underpinned by robust research and working practices, we provided a space where teachers, researchers and students could play, learn and think together. A space to meet other playful people and be inspired by talks, workshops, activities and events. Based in the heart of Manchester, we also explore some of the city's playful spaces with evening activities continuing the fun and conversations after the formal programme ends.
Playful learning is now in its second year after a successful and playful 2016, and aims to be just as playful, and just as relevant in the sector, as the first. We're also looking at ways to be more ethical in approach – so this year, we're focusing on reducing our carbon footprint: we'll be rewarding attendees who arrive by public transport, foot or bike; and all of our food will be vegetarian.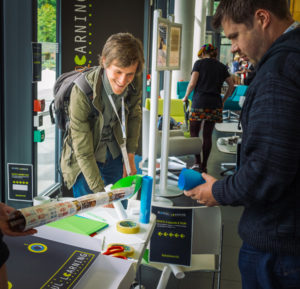 Who is it for?
Higher and Further Education teachers, researchers, trainers and students;  library, museum and local government education officers; workplace trainers; educational designers; learning technologists; in fact anyone involved in adult learning who has an interest in engaging people through play.
"A really enjoyable conference, lots to take away, think about and work towards."

"So inspiring. I feel ready to take a few risks outside my comfort zone"

What will be there?
We're busy rustling up a whole host of playful keynotes, guests, activities and events, details of which will be released over the next few weeks. Our keynotes have now been announced,  the session timetable is published, and details of all the playful events across the conference will follow later in May.
The conference takes place over three days, midday on the Wednesday to midday on the Friday. A range of sessions and activities take place during the day, with further (optional) curated activities in the evening. It's a conference you can immerse yourself in, if you accept the invitation…
We've also teamed up with two exciting project teams to offer a fringe event this year, the day before the main conference. Two alternative events are available, and both are free to attend for all conference delegates.

Call for Sessions
The call for sessions has now closed. The draft conference timetable has now been published.

Registration
Registration is now open! Once again we've kept costs as low as possible for all attendees; in addition this year we are offering reduced rates for students, and for local attendees.
Standard fee (3 days): £350
Day rate: £150 per day
Discounted fee (students and MMU staff): £275
Add on-campus accommodation for two nights, inc breakfast: £115
NOTE: campus accommodation can only be guaranteed for registrations up to May 24th. We will be providing hotel options after that date.
All other meals, activities and evening events are included in the above prices. You can also sign up for optional fringe events and extra accommodation.

"Workshops and keynotes were equally great"

"This is the best conference I have attended in the UK (almost ever)"

– Actual quotes taken from PL16 feedback