Playful Learning, Manchester, 13-15 July 2016 | ARCHIVE (2017 site here)
Playful Learning is pitched at the intersection of learning and play for adults. Playful in approach and outlook, yet underpinned by robust research and working practices, we provided a space where teachers, researchers and students could play, learn and think together. A space to meet other playful people and be inspired by talks, workshops, activities and events. Based in the heart of Manchester, we also explored some of the city's playful spaces with evening activities continuing the fun and conversations after the formal programme ended.
Playful Learning 2016 ran over three days, from lunchtime on Wed 13 July 2016 to lunchtime on Friday 15 July 2016. Reflections and details of the conference are below.
Playful Learning 17 will run 12-14th July 2017: use the main navigation above to access current information.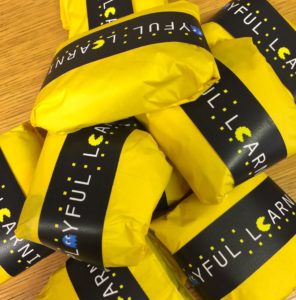 What happened?
Relive the three days through our pictorial stories:
And check out the tweets from @playlearnconf and on the hashtag #playlearn16

Images from the event
Blogged!
Sue Watling created two posts with her own reflections of playlearn16: Digital Detective and #playlearn16
Review, reflect and remember playful learning #playlearn16
Do you have photos or blog posts to share?
We would love to see your own images and reflections on the conference: please contact us at playlearnconf at gmail dot com with links.

Presentations 
Details of the 2016 keynotes, activities and all workshops and other sessions can be found in the programme section.